For this international group exhibition, organized by Grupo Guijuana de Arte de Buenos Aires in Madrid, I painted three small pictures inspired by the photographs of contemporary dancer Christian Pérez, creating an unreal environment where his nudes are integrated with the landscapes in a kind of mysticism lonely and introspective.
"Self-contemplation", "The purification of memory" and "Revelation", three artistic expressions of the facets of a soul that dances life and lives dance.
Galería AraArte
10 Raimundo Lulio St., Madrid, Spain
From September 8 to 22, 2017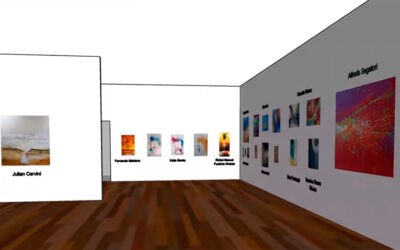 In the context of the global pandemic by COVID -19 and preventive social isolation, the only way to continue enjoying art exhibitions turned out to be virtuality. Initiative, curatorship and production of the Argentine plastic artist Darío Zilberstein, in ...
read more