«Ballet» - Dance Shows of the Instituto Superior de Arte del Teatro Colón, directed by Mtro. Mario Gallizzi.
Within the framework of these two ballet shows, I was commissioned to create the scenographic background that would accompany both presentations.
For this, I painted five canvases in a series that I called «Dancing in the sky», in which you can see dancing couples performing pirouettes in different skies, representing my way of feeling dance: an elevation spiritual to another dimension through movement and music.
Espacio Cultural Carlos Gardel
Olleros 3640, Buenos Aires, Argentina
December 13 and 20, 2007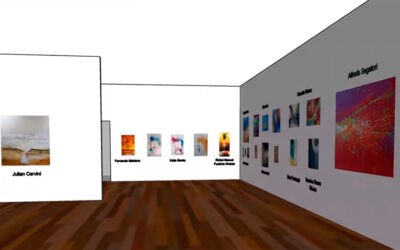 In the context of the global pandemic by COVID -19 and preventive social isolation, the only way to continue enjoying art exhibitions turned out to be virtuality. Initiative, curatorship and production of the Argentine plastic artist Darío Zilberstein, in ...
read more