In 2004 a tribute was made to our artists, recognizing the professional trajectory of great actors, writers, musicians and visual artists, descendants of different immigrant communities, who excelled in their artistic careers and laid the foundations for subsequent generations to be able to continue your work.
In this context, I was commissioned, together with another artist, to create and make a large 28 x 8 meter backdrop, where immigrant communities and the most prominent artists of the 20th century were represented.
It was a huge challenge, but one that we managed to carry out from start to finish in 5 days, working non-stop for more than 10 hours a day.
It has been a great satisfaction to be able to see this work realized and enjoy the beautiful show that excellent artists from different disciplines provided.
The music and dance show was organized by the Government of the City of Buenos Aires and was carried out for the full benefit of the House of Theatre and the Favaloro Foundation.
Centro Municipal de Exposiciones
Av. Presidente Figueroa Alcorta 2099, Buenos Aires, Argentina
June 13, 2004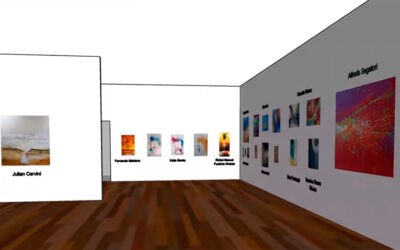 In the context of the global pandemic by COVID -19 and preventive social isolation, the only way to continue enjoying art exhibitions turned out to be virtuality. Initiative, curatorship and production of the Argentine plastic artist Darío Zilberstein, in ...
read more