This group exhibition of Visual Arts was held in a traditional house in the Barrio Norte, in which five works of mine, painted that same year, participated.
«Variations on a sunset on the Río de la Plata» a dreamlike image of a sunset on the river, highlighting the silhouette of the emblematic Fishermen's Club, an iconic building on the Buenos Aires waterfront.
«Rhapsody in Blue» , a series of four paintings about blue tones that I painted while listening to the famous work of the American composer George Gershwin, whom I wanted to honor with these paintings.
Galería Arenales
Arenales 1925, Buenos Aires, Argentina
From October 5 to 16, 2018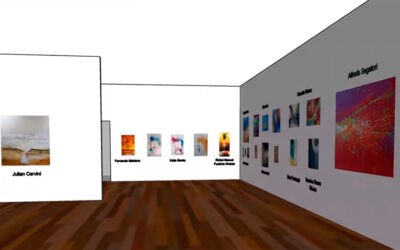 In the context of the global pandemic by COVID -19 and preventive social isolation, the only way to continue enjoying art exhibitions turned out to be virtuality. Initiative, curatorship and production of the Argentine plastic artist Darío Zilberstein, in ...
read more