After eight years away from exhibitions, I went back to taking up brushes, adapting my technique to acrylic on small and medium-sized frames.
For this collective exhibition, under the slogan of a completely black background, I made three paintings of a neosurrealist tone, in which the human figure disintegrates or metamorphoses according to the metamessage of each one.
«Butterfly Nebula» is a hymn to spiritual freedom, a dancing woman who spreads the wings of one of the most beautiful nebulae in the cosmos. Like a sublime paradox, the fragile wings of the butterfly expand in the colossal cosmic dimension of the immeasurable space of the universe.
«Free Spirit» is a self-portrait with a bow and arrow, since Archery is another of my passions, an ancient art that I enjoy practicing whenever I can. The painting is named after my bow, a definition of my own spirit with which a dear friend once described me.
"Senselessness" is a synchresis of multiple meanings. It represents duality, madness, deception, vanity and aggressiveness, an attribute of those who have confused the real meaning of life and are lost in the incoherence of a poor fiction, in which sooner or later their lie is exposed.
«Introspection» shows a human figure enraptured in itself, wrapped in the wings of an owl, a bird that symbolizes wisdom and self-knowledge. While the person keeps her ears covered and her gaze hidden in complete nudity, the bird strongly challenges the observer with a frontal and direct gaze, staring at her. Perhaps in a double attitude of protection of the knowledge of the one who dares to dive in its shadows, as well as questioning the observer, wanting to know if he will be able to dare to do so as well.
ARTEME Museo Regazzoni de Artistas Emergentes
Av. del Libertador 405, Galpones 1 al 5, Buenos Aires. Argentina
From November 4 to 19, 2015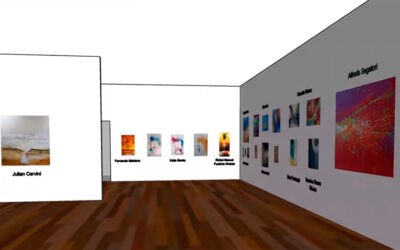 In the context of the global pandemic by COVID -19 and preventive social isolation, the only way to continue enjoying art exhibitions turned out to be virtuality. Initiative, curatorship and production of the Argentine plastic artist Darío Zilberstein, in ...
read more