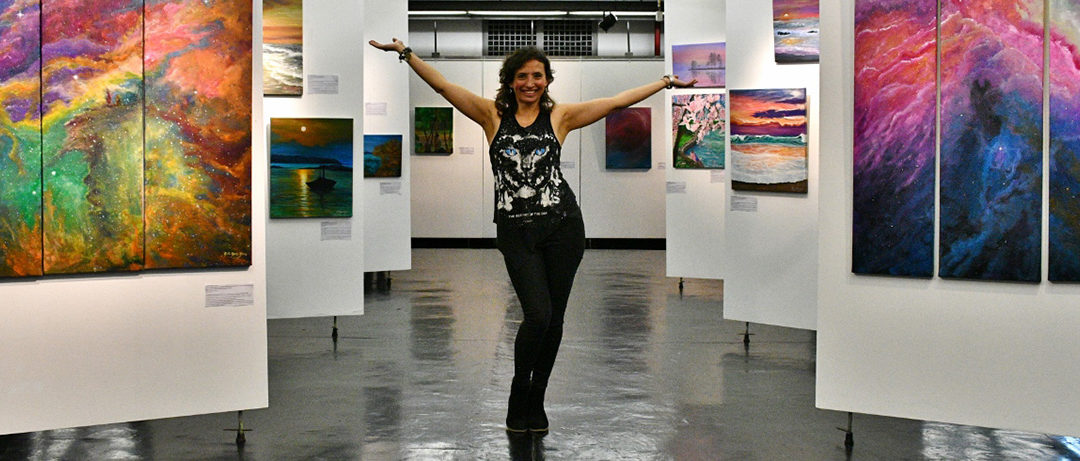 Why do I paint wines and whiskeys?
I am passionate, passions have been an engine in my life to grow since I can remember.
From a very young age I knew that connecting with my inner voice was the way I wanted to live.
This way of perceiving reality from the consciousness of each moment, led me to discover that I can interpret my sensations through art, be it music, painting or writing, and that these interpretations can encompass very different and even distant worlds. in the sensory.
Years ago I was interested in the world of wine and whiskey, learning to taste them in a conscious way, and it soon came to my mind to transform what I was testing into paintings, according to my own vision and sensitive experience.
The origin of a dream
In 2019 I began to paint some photos of the wineries that I had visited in Mendoza the previous year, and while I was painting, I suddenly realized that when I tasted a wine or a whiskey, my mind took me to specific places and times.
I decided then to bring to the canvas those images that accompanied my perception, organizing the paintings into two series that I was making simultaneously.
The series, «Free Spirit» and « Wines and Vineyards» , were thus formed
The first celebrates the long tradition in the art of whiskey making that has led Scotland to an unsurpassed place in the noble distillate of malt and grain industry.
The second pays tribute to the great Argentine winemaking career, the art of making wines that reflect the terroirs, the connection of man with his universe and the search for excellence.
My artistic vision focuses on the integration of the human being with nature, recreating figurative and abstract landscapes, as a representation of the spirit of each drink.
Translate sensations into images
In a kind of synaesthetic perception, the aromas, flavors and textures tasted, are translated into landscapes, contours, colors and light games, interpreting in each work a synchresis of images, associated by their own subjectivity, that highlight the character and personality of each of the distillates, varietals and cuts represented.
My individual exhibition «Free Spirit» held at the Casa de la Cultura in Buenos Aires, unites the two series of paintings, displaying 64 works in the first basement room of this historic building.
This exhibition was part of «The Night of the Museums 2019» , with an estimated number of visitors of 6,000 people.
Its inauguration was attended by the Malandra Winery, originally from Mendoza, who offered a tasting of 3 of their wines, which I also interpreted in my paintings.
In this way, the attendees were able to experience the colors, aromas and flavors of the wines while observing the works that paid homage to them, which gave them a new perspective from which to analyze their organoleptic properties, beyond artistic enjoyment.
Currently I continue to create on these topics, but I have decided to expand my palette to add artistic interpretations of distillates and wines from other parts of the world.
I am preparing the next individual exhibitions, which this year will be entirely dedicated to each theme separately.
Casa de la Cultura de la Ciudad de Buenos Aires, participante de La Noche de los Museos 2019
Av. de Mayo 571, Buenos Aires, Argentina
From October 30 to November 7, 2019