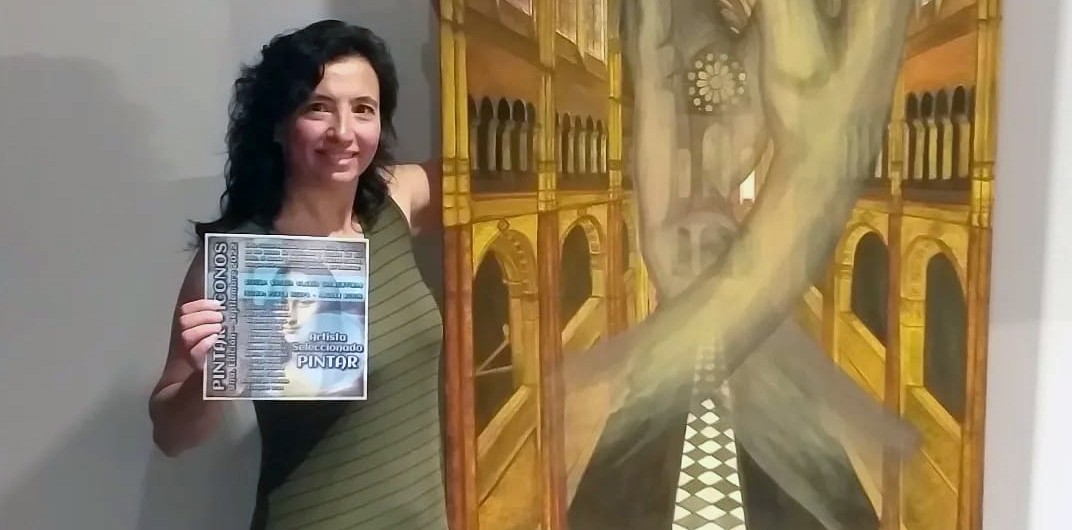 May art and love always be the meeting place for souls.
Thank you all for making a place in your hearts to receive my art, thanks to friends and those who still defend the joy of creating.
End of the 365 Exhibition inBarolo's Palace Basements.
Artwork exhibited:
Cathedrals I
Serie: Out of Series
Técnica: Oleo sobre tela
Medidas: 80 x 120 cm
Year: 2003
Interior of the Cathedral of Chartres and "The Cathedral" (sculpture by Auguste Rodin)
Nuestra-Señora de Chartres, edificio gótico del siglo XII, fue construido inmediatamente después del incendio que asoló la catedral románica del siglo XI. Esta catedral se encuentra en la ciudad de Chartres, en el centro oeste de Francia.
The interior is beautiful, especially when the day is bright. When advancing through the central nave one experiences an immense enjoyment of beauty, and as one approaches the transept, one feels how the measures of the temple and the games of perspectives evolve. This image of ascension in aesthetic and spiritual enjoyment is enhanced by the unevenness of the ground itself, increasing in altitude up to the head. This cathedral, like many others, was drawn by Auguste Rodin in his travel notebooks.
In 1914 his book "Cathedrals of France" was published with almost 2000 illustrations by this great artist.
Auguste Rodin (París 1840-1917), realizó en piedra la escultura que llamó "La Catedral" evocando las ojivas de una catedral gótica. Son dos manos derechas que no pertenecen a la misma persona. Una de ellas es más vigorosa, más alta y fuerte y está en actitud protectora; es masculina. La otra mano, más tierna y recogida, más delicada, es femenina. El gesto es de acercamiento afectivo, de comunión interpersonal, de oración, y se encuentran en un nivel superior.
These hands rest one against the other, slightly curved and united in the center of the kind of vault that they form at the top, where the fingers evoke the ribs of the arches, pointing towards a higher center of confluence.
It is the architectural principle of the Gothic cathedral: the building supporting itself by the mutual support of the parties, which rise together, like the hands of "The Cathedral".
Bajos del Barolo
Av. de Mayo 1370, Buenos Aires, Argentina
From December 3 to 7, 2022